Lakers Grab Number 15!
by TSG
on Mon, June 15th, 2009 at 9:31 am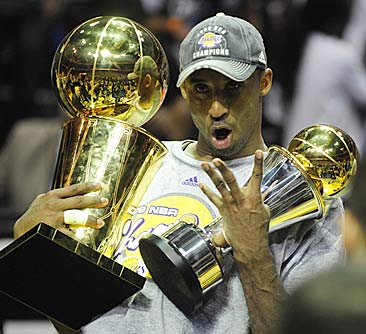 If you were around on the Facebook wall last night, you may remember TSG's jubilation during Game 5 of the NBA Finals last night as there were not one but TWO Swag Codes during the game! As one would expect, Kobe Bryant won the MVP as he averaged over 30 points a game and showed the kind of leadership that everyone was waiting for since Shaq left the team.
That said, the Magic are a good team and although you may not have seen all of it this series, Dwight Howard is a monster on the floor. I'm sure they'll be contenders for years to come if that team stays together.
Living in Southern California, TSG and Team Swagbucks were thrilled with the outcome. However, I must say I was dismayed by the fan reaction in Downtown L.A. There was anxiety over riots and violent celebration that was talked about long before the series ended and even with all that hype, people still acted foolish and destructive in what was supposed to be a celebratory moment. Los Angeles is not the only city this happens in but hopefully fans everywhere will wake up and realize that trashing the city your team just brought a title home to is not the way to celebrate their efforts.
All in all, it was a great night for TSG and Laker fans everywhere; Phil Jackson got his 10th title making him maybe the best coach ever, Kobe got his 4th title and first without Shaq (which Shaq was openly pleased with, you know this if you follow him on Twitter) and Kobe won the MVP.
Pretty storybook if you ask me…
TSG